Back to About us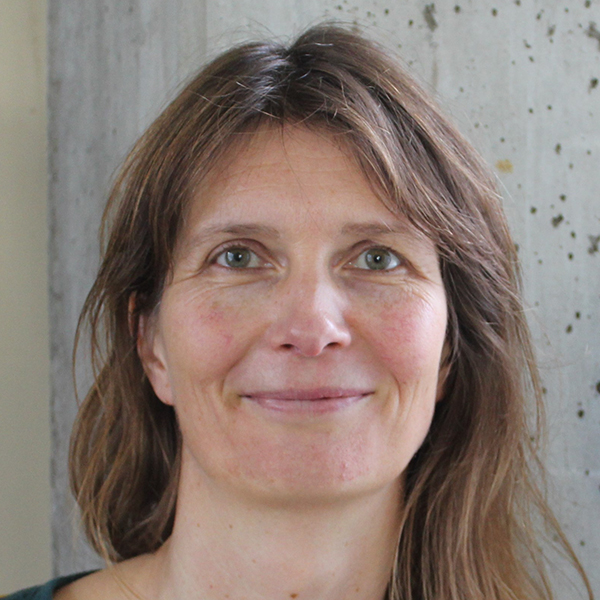 About
University Degree (Diplom) in Educational Sciences in the context of Migration (Oldenburg University) plus Teacher Education Degree (Würzburg University). PhD in 2006 focusing on school development programs in Peru. Before starting at the BiSEd she worked for more than ten years in international human rights organizations and in international cooperation, among others in Heidelberg and Bonn. Her focus of studies was education and teacher education in Latin America.
Current work and research interests
Dr. Renate Schüssler works at Bielefeld School of Education (BiSEd), a central academic institute of Bielefeld University. Together with the faculties, the BiSEd is responsible for teacher education. Approximately 20% of the students at Bielefeld University are enrolled in teacher education. Renate is responsible for internationalization, capacity building of teachers and for the project Lehrkräfte Plus.
Lehrkräfte Plus is a qualification program for teachers with a refugee background. It aims at giving an insight into the German educational system and at preparing the participants for working at a local school later on. The project was initiated by the Bertelsmann Stiftung and Bielefeld University and built up in close cooperation with the Stiftung Mercator, Bochum University and the educational ministry NRW. From 2020 onwards, it is supported by the DAAD with funds of the Ministry of Science and Culture NRW.
Mostly looking forward to working in ITTS, because…
Working with teachers with a refugee or international background and preparing them to work in their new country is such an inspiring project with lots of emotional experiences. I'm looking very much forward to sharing experiences and to exchanging about challenges and strategies on an European level.
Selected publications
Auner, N., Schüssler, R. & Palowski-Göpfert, M. 2020: "Bei uns läuft's ja doch gar nicht so schlecht" –Internationale Exkursionsreisen als Reflexionsanlässe. In: Herausforderung Lehrer_innenbildung, 3 (2), pp. 345–356. (Te Poel, K. & Heinrich, M.: Themenheft 4: Professionalisierung durch (Praxis-)Reflexion in der Lehrer_innenbildung?)
Schüssler, R., Vanderbeke, M., Feldmann, H., Jacke, N., Siebert-Husmann, C. & Purrmann, K. 2020: Lehrkräfte Plus – Netzwerkerfahrungen der Pionierprogramme für geflüchtete Lehrkräfte in Nordrhein-Westfalen. In: Bendick, C. et al. (Eds.): Netzwerke. Magazin zu gelingender Bildungsnetzwerkarbeit der Zentren für Lehrer*innenbildung und Schools of Education. Braunschweig, pp. 34-39.
Purrmann, K., Schüssler, R., Siebert-Husmann, C. & Vanderbeke, M. 2020: "Wir haben so lange auf eine Chance gewartet" – Potentiale und Herausforderungen des Qualifizierungsprogrammes Lehrkräfte Plus für geflüchtete Lehrkräfte. In: Kremsner, G., Proyer, M. & Biewer, G. (Eds.): Inklusion von Lehrkräften nach der Flucht: Über universitäre Ausbildung zum beruflichen Wiedereinstieg. Bad Heilbrunn: Verlag Julius Klinkhardt, pp. 217-226.
Siebert-Husmann, C., Vanderbeke, M., Purrmann, K. & Schüssler, R. 2020: "Lehrkräfte Plus" – Qualifizierungsprogramm für geflüchtete Lehrkräfte: Perspektiven und Herausforderungen. Ein Beispiel aus Nordrhein-Westfalen. In: Wojciechowicz, A., Niesta Kayser, D. & Vock, M. (Eds.): Lehrer/innen-Bildung im Kontext aktueller Fluchtmigration. Perspektiven, Erkundungen, Impulse. Weinheim/Basel: Beltz Juventa, pp. 126-137.
Auner, N., Palowski, M. & Schüssler, R. 2019: Ein Blick über den Tellerrand: Inklusion und Heterogenität im internationalen Vergleich erfahren. In: Herausforderung Lehrer_innenbildung, 2 (3), pp. 102–122. (Gorges, J., Lütje-Klose, B. & Zurbriggen, C.: Themenheft 3: Lehrerinnen- und Lehrerbildung für die inklusive Schule - Fachdidaktische und bildungswissenschaftliche Ansätze)
Purrmann, K. & Schüssler, R. 2019: Lehrkräften mit Fluchthintergrund eine Perspektive ermöglichen. Das Qualifizierungsprogramm Lehrkräfte Plus. In: Sozial Extra, 43 (2), pp. 110-112.
Auner, N. & Schüssler, R. 2017: Should I stay or should I go? Konzeptionelle Ansätze, um Mobilität im Lehramt zu fördern. In: journal für lehrerinnen- und lehrerbildung, 17 (4), pp. 17-21.